Reflexology performed by Dr. Bret Mosher in Poway, CA, can restore balance in the body, providing physical benefits such as pain relief, increased energy, and an improved metabolism. The therapy involves massaging specific points on the feet, which many patients find to be pleasant and relaxing. Dr. Mosher typically spends between 30 and 60 minutes on your treatment to help you experience maximum reflexology benefits.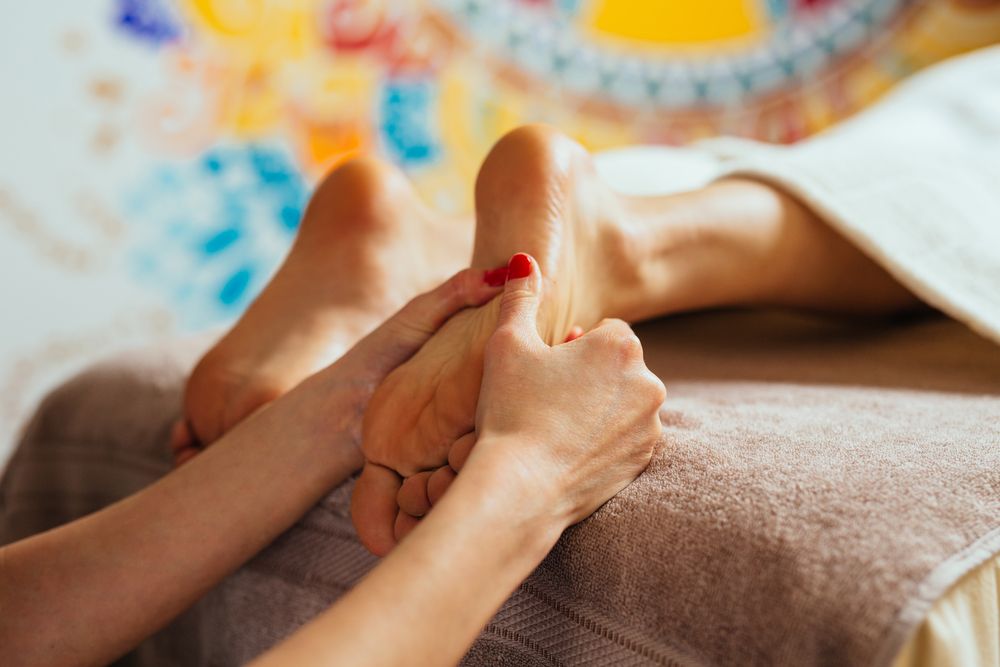 Health Benefits of Reflexology
Specific benefits of reflexology include:
Improved Nerve Function
A single session of reflexology stimulates more than 7,000 nerve endings, which increases their reactivity and improves function and flexibility. This can be especially beneficial for older patients who have lost sensitivity in their extremity nerves.
Improved Circulation
Reflexology is known to improve the flow of blood and oxygen throughout the body. When more oxygen is delivered to an organ system, it can optimize function. Improved circulation also increases metabolism and expedites healing.
A single session of reflexology stimulates more than 7,000 nerve endings, which increases their reactivity and improves function and flexibility.
Increased Energy
The increased circulation that results from reflexology by Dr. Mosher can also help patients to feel more energetic.
Relaxation
A reflexology treatment feels like a foot massage. The reflexologist walks the finger or thumb over different areas of the feet in a set sequence, using the whole hand to knead the foot. Most patients find the sensation to be soothing and are left feeling relaxed and serene after their session.
Detoxification
Massaging these pressure points helps stimulate and cleanse the associated organ systems. Due to its demonstrated ability to improve circulation and the function of organs and glands, reflexology is an outstanding therapy for detoxification.
Relief from Migraines and Headaches
Migraines can be triggered by stress and anxiety. As such, reflexology can be a preventive agent and can help relieve headache pain.
Reduced Side Effects of Pregnancy and Menstruation
Reflexology can decrease morning sickness and has been demonstrated to aid contractions during labor. A 1993 study found that ear, hand, and foot reflexology helps to relieve symptoms associated with premenstrual syndrome.
General Benefits of Reflexology
When provided by a qualified practitioner, reflexology is a safe, non-invasive treatment that is completely drug-free. It can be an excellent therapy for patients of all ages, even babies, and can benefit patients who are elderly or frail. Treatments can be easily combined with many different kinds of complementary therapies to increase their effectiveness.
Choose a Qualified Practitioner
Simplicity is one of the greatest advantages of reflexology. However, it is vital to note that reflexology is more than just a foot massage. Applying pressure incorrectly or in the wrong places will not produce healing, and it can actually create more damage. Dr. Mosher's expertise in reflexology minimizes risks while maximizing benefits. As an authority in his field with nearly four decades of experience, he can incorporate reflexology to into a whole-body health plan customized specifically for you. To learn more about taking control of your health and how reflexology can benefit you, contact our natural health practice online today or call (858) 679-2995.